BLOG
(General)
And so we find ourselves in February 2016 already. The mueseum may not be running any trains until Easter, but during this quiet period the volunteers are looking back at what has been achieved in the previous year, while we get on with remedial track work ahead of the 2016 season.
Without doubt, the highlight of the year was the opening in November of the Simon Layfield Exhibition Centre. This three road building which now stands on the old Loco Yard is a most significant advance for the museum, and could not have been achieved without generous help from industry partners, and heroic efforts from our own volunteers. The Exhibition Centre has been dedicated to the late Simon Layfield, whose hard work and vision helped shape Rocks By Rail into what it is today.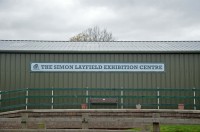 We can not rest on our laurels though, and track work has already commenced on the point work that controls access from the main running line into the eastern head shunt. there is much to be done.
2016 will see a concerted effort to recruit new volunteers, these are the lifeblood of any such museum, and like anywhere else, we could always use more. We always need help either staffing the cafe, undertaking engineering and restoration work on our exhibits, keeping the grounds in good order, or working along the track. The heritage railway and museum worlds offer wonderful opportunities for learning, meeting people, contributing to exciting projects, and being part of a fantastic team united through common interests and purpose. If you fancied coming to try your hand volunteering with us, why not come along and join up on a Tuesday or Thursday (note – working volunteers must join as a member, and some age restrictions may apply).
The website has now been updated with details of events for 2016, we do hope you can come and join us. We will also be offering 'Driver For A Fiver' on Sunday 14th February – why not treat the lady in your life to a trip in one of our historic Rolls Royce powered diesels this Valentines day! What could be more romantic?