WE WILL REMEMBER THEM
On 17th October 1943 in the jungles of Thailand the surviving allied prisoners of war issued a collective sigh of relief  as their years work on the Burma – Siam railway  came to a conclusion – the railway was complete. As the Japanese prepared to celebrate this remarkable engineering achievement this was of little solace to the prisoners who knew only too well the high price in human sacrifice and misery so cruelly ignored by the Japanese authorities.
The 250 mile long metre gauge railway ran through inhospitable jungle and had to traverse hills, valleys and rivers en route. Over 150 million cubic feet of earth and rock was moved by hand  involving some 60,000 allied prisoners of war and 200,000 native workers. De-habilitating disease brought on by malnutrition , injury (from beatings and accidents) and death was commonplace and with medicine often deliberately  withheld by their captors nearly 13,000 allied servicemen perished, together with some 100,000 native workers. Some sections of the railway line claimed a life lost for every railway sleeper laid and consequently the project has become known as the "Death Railway".
This October sees the 80th anniversary of the completion of construction of this railway and the volunteer run Museum is to hold a special Commemorative event by the FEPOW memorial steam locomotive "Singapore" locomotive to remember all those allied prisoners of war who worked, suffered and died on this project.
The Museum therefore wishes to extend an invitation to attend this memorial event
on: Tuesday 17th October 2023
at: Rocks By Rail near Cottesmore, Rutland LE15 7FF
commencing at 11.30am.
The Museum will be open to visitors from 10.00am.
To book a place(s) at the event please email curator@rocks-by-rail.org
During the commemoration there will be an opportunity for persons to lay a white orchid below the memorial plates on the locomotive – in memoriam.
There is no admission charge to the event but any donations to the FEPOW Memorial Locomotive Appeal would be most welcome.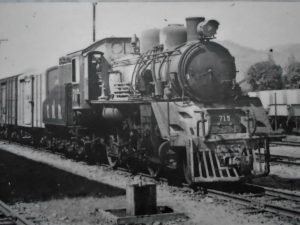 Image: A Japanese built steam locomotive is pictured at work on the Burma railway. The locomotive is hauling steel covered wagons of a type used to transport allied prisoners of war to Thailand from Singapore.  Photo courtesy D Scudamore