OXFORDSHIRE IRONSTONE COMPANY QUARRIES REMEMBERED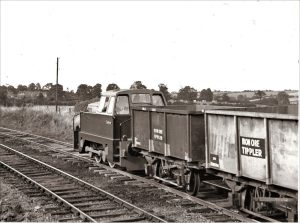 It is now hard to envisage that the pleasant rolling countryside of north Oxfordshire was once host to opencast quarrying of ironstone for iron and steel production on a grand scale. The excavation of ironstone started around Wroxton near Banbury in 1919 with economic pressures finally forcing closure in 1967. The ironstone was moved by rail from the quarries to the distant steelworks firstly over the private mineral railway of the Oxfordshire Ironstone Company (OIC) to mainline railway sidings north of Banbury. Over the life time of the quarries some 33 million tons of iron ore was removed.
The mineral railway was one of the largest in the Midlands being operated by a large stud of quarry locomotives. Steam locomotives were used to haul the quarry trains for many years until they were phased out in favour of a fleet of new Sentinel diesel locomotives. Upon closure of OIC in 1967 the Sentinel locos were all transferred elsewhere.
A small museum in Rutland is holding an Open Day on Sunday 17th September 2023 with a theme of the industrial heritage of the Oxfordshire Ironstone Quarries. The volunteer run museum Rocks by Rail based near Cottesmore, Rutland specialises in the industrial heritage associated with ironstone quarries and their associated quarry railways.
In addition to steam train trips for visitors the museum is to display three of the surviving Sentinel diesel locomotives named BETTY, JEAN and GRAHAM which once operated in the later years by the Oxfordshire Ironstone Company. It is also hoped that demonstrations will be carried out using two Sentinel diesel locomotives in the museum's mock ironstone quarry to supplement a small display on the history of the OIC. During the day some changes to the identity of the working diesel locos will be made to remember long lost Sentinel locos such as MAUD and GRACE.