Following the success of the first two events of the 2023 Season Rocks By Rail Museum at Cottesmore will be holding two more family friendly events over the May Bank Holiday. Sunday 30th April will see the ever popular Rutlander train in operation throughout the day.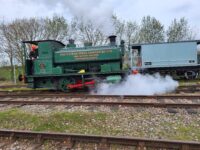 On Monday 1st May the Rutlander train will again be running but there will also be a full day of quarry operations with mineral trains and excavators operating to show just what quarrying ironstone in the local area was like. The Sundew Cafe will be open on both days serving hot and cold drinks, snacks and the ever popular and tasty bacon cob!
A family ticket for two adults and three children is still only £25 and includes unlimited rides on the Rutlander train! 
Don't miss out on the fun and action at this unique Rutland attraction this Easter. But if you can't make it don't worry, there will be plenty more events throughout the year.