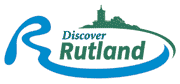 Although compact, Rutland has a great deal to offer in terms of attractions, things to do and places to visit.
Close to Rutland Water, Barnsdale Gardens and Burley House the Museum can be combined with a day out or longer stay in the area.
Visit the Discover Rutland website to discover more about local attractions and where to stay.