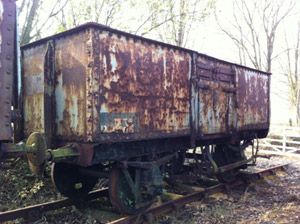 LOCO COAL WAGONS
The steam locos at the quarry would have required a steady supply of coal and this would have been supplied from the mainline connection.
Our collection includes two now extremely rare 13-ton ex-private owner coal wagons.
---

P66288
Built by W Rigley & Co. in 1936, as a side and bottom door mineral wagon, registered by the LMS No.172194.
---

P148144
Built by Cambrian Wagon Co. as side, end and bottom door mineral wagon for Wm. Cory & Sons.