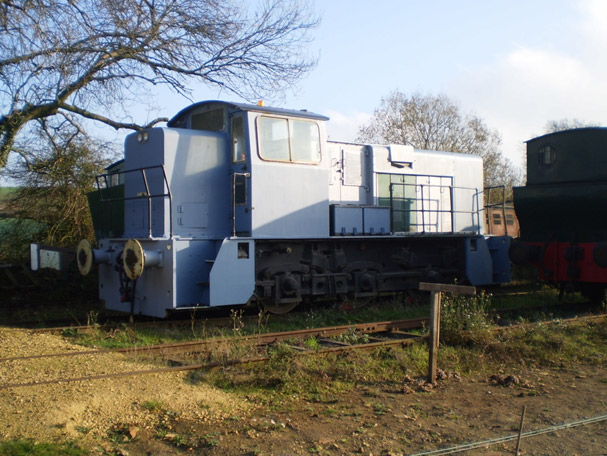 GEC 5578 – LUDWIG MOND
GEC Traction Ltd, Works Number 5578 built in 1980
RMC (now CEMEX) – BARRINGTON CEMENT WORKS & QUARRY, Cambs.
Built in 1980 under the Stephenson brand, LUDMIG MOND is believed to be the last standard gauge locomotive built at the world famous Vulcan Foundry at Newton-le-Willows. Originally sold to ICI at their Mond division works for moving their 100 ton limestone hoppers, it was named "Ludwig Mond" after the famous chemist and founder of ICI. Powered by a Dorman 8QT, V8 diesel engine of 500 hp, weight 50 tons in working order and having a 16.5 tons axle load. This class of locomotives were main line locomotives in miniature, there were two models produced, 50 and 75 ton, with either 8 (500hp) or 12 (750hp) cylinder engines. They were an expensive machine and sold to British Steel (75 ton model) National Coal Board (both weights) and this example to ICI.  A similar diesel hydraulic model was the mainstay of shunting within the Corby steel works.
When the ICI hopper work ended the loco passed through dealer's hands and was eventually sold to Barrington Cement works for its main line work into the exchange sidings. It has therefore spent its entire working life in the quarrying industry. The locomotive was originally fitted with train vacuum and air brakes. It is intended to restore the vacuum brake, since removed, to bring the loco up to dual brake capability. The loco is well into a comprehensive overhaul and we look forward to it entering service as the largest and most modern loco in the collection.