There is always something to learn at Rocks By Rail, and there are always tasks that need to be completed.
If you are part of a group or organisation looking for a chance to try something different, perhaps as a Team Building day, why not come and work alongside our own volunteers? We can find tasks to suit large and small groups of all ages and abilities.
Or, if you would like to arrange a group visit for an educational tour, we can arrange one that fits your needs.
We will let these testimonials speak for us…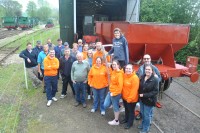 "A big thank you to yourself and the rest of the team at Rocks by Rail, for making our team building day such a success yesterday. We all thoroughly enjoyed ourselves and got a lot out of it. The various tasks split up the day nicely, the lunch options were delicious and getting to operate a diesel locomotive was definitely one of our highlights! We would love to return again soon to help out in whatever ways we can." Education City
"Many thanks for your hospitality and for showing us round the museum; everybody enjoyed it immensely and were very impressed by your knowledge and enthusiasm." Kibworth And Fleckney Rotary Club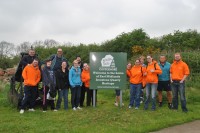 "We were absolutely delighted with our visit – from the initial welcome, to the enthusiasm with which the information was delivered. There is something for everyone" Geology Group – Grantham U3A
To arrange either a team building day or a group visit, please contact us by any of the means on our contact page.