We are now almost set for our Spring Gala With A Stanton Theme. Though SALMON needs a bit of attention for known issues, she has already been in steam at Rocks. The occasion was our very first DIG IT driver experience day. Both SALMON and the two participants did sterling work throughout the day, which made for a momentous occasion for participants and volunteers alike. In fact, expressions like 'Crazily Awesome' were used!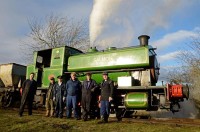 Some final and minor issues are still to be worked on, but SALMON really is set to be star of the show at the gala on the 15th March, when she will once again work iron ore stock, running past her sister loco, BELVOIR, and the Woolsthorpe shed.
Work continues on the IREC building, and this week has seen a press release by the museum, acknowledging the tremendous help with donated materials from both LAFARGE/TARMAC, and HANSON. The materials in question were 40tonnes of granite chippings and 20tonnes of cement and aggregates respectively. This is a huge help for a mammoth project, and the museum is grateful. This keeps us right on track for completion of the IREC project, which will open later in the season.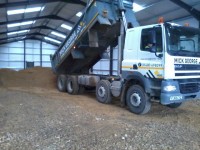 Work to start laying track into the shed will begin in April. Currently, the doors are being fitted, and the block work is being finished.
A press release made earlier in the week can be read HERE.