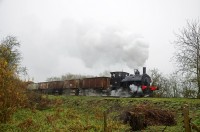 Rocks By Rail is ending its year on a high! The weekend of 15th/16th November was one the volunteers and visitors wont forget for some time. Beyer Peacock No.1827 visited from Foxfield, and took part in a rather misty photo charter on Saturday alongside both Barclays resident at the museum. The weather did not dampen the mood, in fact it provided some very atmospheric shots. The shutters kept clicking until well after dark. Sunday, of course, was gala day, and another misty start didn't deter anyone – the site was full to capacity by late morning. All three locomotives performed admirably, and each took a turn on passenger duty, quarry shunting, and main line tippler runs. Visitors cam from far and wide – almost all the industrial railways were represented. Visitors were still arriving even when the heavens opened in the mid-afternoon. Thank you to everybody who came. If you didn't make it this time, you can enjoy the photographic record, courtesy of Alistair Grieve, just click here.
We are now just a few weeks away from the Santa trains, which will be on the 14th and 21st December, and then there will be the Mince Pie Specials on New Years Day. Tickets must be pre-booked, and are on sale now. Click for details.
A lot of maintenance and development work will be taking placeover the winter months, the main project being the Ironstone Railway Exhibition Centre currently being constructed on the site of the loco yard. We will keep you up to date with all goings on through this blog, and also through our Facebook Page.