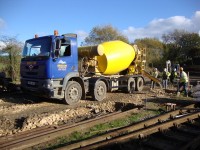 We are happy to report that the first concrete has been poured for the Ironstone Railway Exhibition Centre. This mixer truck arrived on site yesterday to supply concrete to fix the anchor points for the vertical members. Things are really coming on apace with this project, and you can keep right up to date with it on our Facebook Page. This project will transform the site for both volunteers and visitors. It will provide greater security for our collection, and allow preservation and restoration work to progress unhindered by the weather. Importantly, visitors can browse through the exhibits without being subject the numbing Cottesmore cold, or anything the British weather can throw at us.
In other news, we have just heard that this years Autumn Steam Gala visitor, VULCAN will be touching down at Rocks By Rail on Monday. Dont forget that the gala will be on Sunday the 16th of November. We all look forward to welcoming her and her crew to Cottesmore – and seeing her work up the gradient! Other work on site has seen further progress on the Quarry Spur, which now has the first few panels bolted down, and the curve has been set, this project will be finished in time for the gala – giving more scope for shunting in the quarry , which will be good for the railway operationally, and interesting for the visitors watching from the quarry viewing area which will be extended to the length of the quarry.
Just one more reminder for our followers, there are still places available on the Santa trains on the 14th and 21st of December. There is also space available on the Mince Pie Special on New Years Day – what a way to start your year! Booking is essential, and you can secure your place by calling 07873 721941.
07873 721941
07873 721941