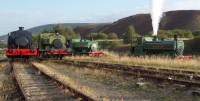 What a fantastic month this has been for Rocks By Rail. Some of our volunteers are just back from the South Wales Valleys where the Andrew Barclay locomotives were put through their paces at the Pontypool & Blaenavon Railways gala. It was great to meet and work with new people, it was also fantastic to see our locos against a different  landscape steeped in industrial history. A good time was had by all, and Rocks By Rail looks forward to returning the hospitality shown by the P&BR volunteers. Some fantastic photos and footage are currently circulating the internet for all to enjoy.
The next piece of news is a little closer to home. Rocks By Rail are very pleased to announce that we have been successful in our application for funding to create an Ironstone Railway Exhibition Centre at Cottesmore on the site of what is now the Loco Yard. This is a most significant gain for the museum – you can read the official press release here. This project will see the existing three road loco yard re-laid and covered by an insulated three road exhibition and conservation building. Planning permission has been applied for, and we hope construction will begin very soon.
And still to come this month is the Diggers & Dumpers event on Sunday the 21st. We hope you can come and join us!