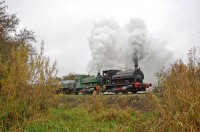 The gala was a close run thing – we completed the construction of the trackwork in the locomotive yard leading to the new servicing pit at lunch time on Friday 15th November after rebuilding the pointwork, donated from Barrington Cement Works and barely dismantled a matter of three weeks before, as well as essential jacking and packing to ensure that there were no gaping voids under the track.
All three locomotives were in attendance, Peckett 1749 FULSTOW visiting from the Lincolnshire Wolds Railway, Andrew Barclay 2088 SIR THOMAS ROYDEN returning from a season at the Royal Deeside Railway and resident Andrew Barclay 1931 by the end of the week after transport arrangements had gone smoothly.
The locomotives were carefully prepared for their long weekend of work while the final shunting took place, FULSTOW joining the diesel fleet of JEAN and Mr D in completing the work on Saturday.
Sunday saw a fantastic turnout of visiting enthusiasts from far and wide, some returning friends but a large number of keen visitors who had not been to the Museum before. They were not disappointed for action as the three steam locomotives took 'shifts' on each type of activity – working the quarry, hauling the hopper train up our 'bank' into the yard and then shunting stock while the third took charge of our passenger shuttle to the far end of the Museum site.
The volunteers were complemented on the development progress at the site since the beginning of the year – the first steam gala being a great showcase for the hard work.
On Monday, we hosted the second photographic charter organised and promoted by Russ Hillier when around 50 keen photographers arranged a series of photographic opportunities with the three steam locomotives. These included a period of double heading, solo working, a cameo quarry scene and the day culminating in an evening shoot just as the light was fading. The event saw all types of weather including sun, fog, rain and a magnificent sunset – all made for some very photogenic scenes!
Galleries of the two days events can be seen on the following links;
http://aligrieve.smugmug.com/Preserved_railways/Rocks-by-Rail/2013RBR2013GALA
or
http://paulgildersleve.smugmug.com/Rocks-by-RailMonday18th%2520November%25202013
or
the very good video films by Steve Hanglands and Mike McCormac on www.youtube.com